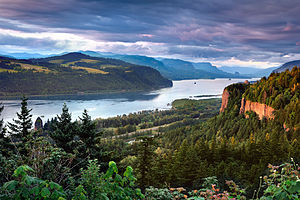 The Columbia Gorge
About Us
We live in Hood River, Oregon, in the beautiful Columbia River Gorge. We love Hood River because it is surrounded by mountains, waterfalls, and forests, as well as being one of the few spots on the east side of the Cascades that is at sea level. Hence, it is dry and warm. At least, relative to the rest of the Northwest!
While it is technically an ocean port, it is a long, long way to the ocean. Nevertheless, it is a world famous sailboarding area. To the east of Hood River is the Oregon desert, which can get as hot as Hades in the summer, while to the west lies the cool Pacific Ocean. These huge temperature gradients drive powerful convective winds through the skinny wasp waist of the Gorge, where Hood River sits. Thirty plus knot winds on a hot August afternoon are not uncommon. These west-to-east winds oppose the east-to-west flowing Columbia River, creating huge hydraulics that the boardheads love to play on.
Despite its tiny size (7000 people), you hear languages from all over the world, as visitors enjoy its low key ways and beautiful scenery.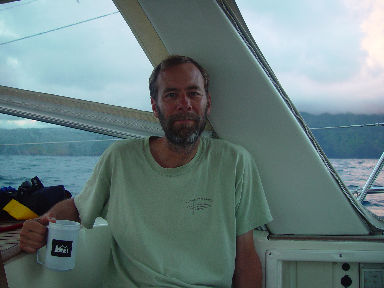 Relaxing at anchor in the Marquesas
Tom Keffer
After getting a PhD in physical oceanography at Oregon State University in 1980, I worked at Woods Hole Oceanographic Institution in Woods Hole, Massachusetts, for 5 years, focusing on the physics of fluids, in particular climate studies. I loved the job, but couldn't imagine growing old on Cape Cod, so we moved to Seattle, Washington in 1985 where I took a job on the Univ. of Washington oceanography faculty. There, I had the opposite problem. I couldn't stand the bureaucracy of UW, but loved living in the Northwest, where most of my family is from. So, in 1989, I quit UW, moved back to Corvallis, Oregon, and started a software business, Rogue Wave Software, named after a sailing dinghy I had at Woods Hole. It was very successful, growing from 5 people in 1992, to about 400 in 1998, when I kicked myself upstairs to the Chairman role. In Spring, 2002, I left the company completely, determined to focus on the sailor's life for a few years.
By 2006, I'd gotten that out of my system, sold Cats Paw, and began focusing on non-profits and early stage investing. Most of my energy has gone into Mercy Corps, the Woods Hole Oceanographic Institution, and the Oregon Angel Fund. The common thread through all of them is helping small businesses get started and, hopefully, thrive.
In June 2007, having gone boatless for a little more than a year, I gave up and bought Velocity, a J/42.
Lee Christie
Lee is my wife and partner. We met in Cape Cod at a square dance over 30 years ago!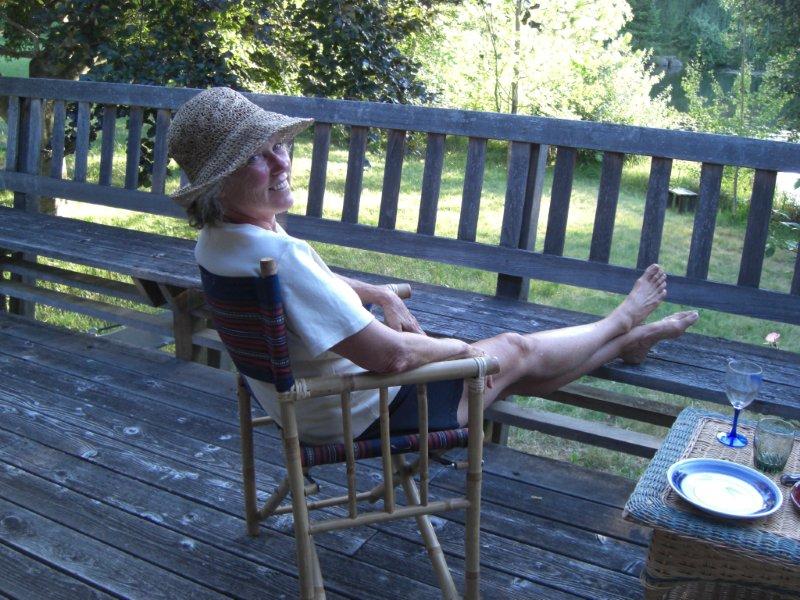 Lee Christie
Born in Southern California, she lived the life of the gypsy before hitching herself to my anchor and chain. Since then, she has founded and/or run a variety of nonprofits doing everything from providing normalized summer vacations for mentally-retarded adults in New England, to a wildlife rehabilitation center in Oregon. Most recently, she has been volunteering at the Rowena Wildlife Clinic, mentoring young students in outdoor sciences with the Gorge Ecology Institute, and serving on the board of the Hood River Valley Residents' Committee, one of the oldest land use groups in Oregon.
As for sailing, she has already been there, done that, in the 1970s when she owned a 36' wooden, center cockpit cutter.