South until the moss stops growing
During August 2003 I took Cats Paw south from Bellingham to Channel Island Harbor, California, with three friends: Eric Nylen, his son Daniel Nylen, and Tom Dancer. This is the daily log that I sent out over HF radio. See also Lessons Learned at the bottom.
15 August 2003
Greetings from S/V CATS PAW!
Last night at 11:30p (was it only last night?) I met Eric and Daniel at the Bellingham airport. We started bright and early (7:30a) this morning, bound for Victoria. The currents were favorable, but the winds were not. Unfortunately, that meant big, choppy waves in Haro Straight, but we still made good progress, getting into Victoria at about 4pm.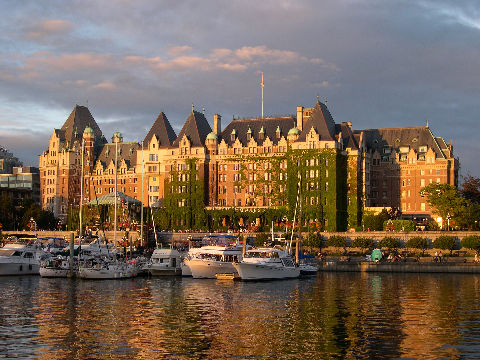 Victoria, B.C.
The plan for tomorrow is to leave for Neah Bay at 6am, so hopefully we will avoid the worst of the afternoon chop that can develop in the Straits. From the forecasts we have been hearing, it sounds like near ideal conditions for escaping up the Straits and getting out into the Big Ocean with a minimum of trauma.
Crew is happy and well. Lots of food on board, lots of good company.
-tk
17 August 2003
Friends and family!
This morning we left Victoria, BC, at the crack of dawn (6AM). We were bound for Neah Bay, on the far end of the Straits of Juan de Fuca.
The Straits are legendary for the very strong winds and waves that can come sweeping down their length, making life miserable for anyone trying to get out. In talking to several circumnavigators, many of them said that the worst sailing they had was "escaping" from the Straits of Juan de Fuca. So, it was with a bit of trepidation that we faced today.
And so we left early, hoping to avoid the traditional afternoon 30+ knot winds that can kick up, making for a slow, uncomfortable ride. But as hoped, this morning, it was dead calm with a warm, red, beautiful sun glowing off the Olympics on the other side of the Straits. We savored the quiet and solitude.
Unfortunately, by 7AM we were in thick fog, and had to navigate entirely with GPS and radar.
The big ships that ply up and down the Straits are confined to well defined "traffic lanes," one westbound, one eastbound. Because they go way faster than us (20+ knots to our 7), we try to stay out of their way. We started out paralleling the traffic lanes on the north side, kind of like pressing up against the side of a highway, until we were about halfway out the Straits. About 11am we called Seattle Vessel Traffic Service and told them we were going to cross the traffic lanes, north to south. Feeling like a puppy dog trying to cross a freeway, we zipped across as fast as we could to safety.
By 1pm the fog finally lifted, although we occasionally would wander into a patch, necessitating that we go back to the radar.
Fortunately, we never had much in the way of wind and waves. The worst the wind got was about 15 knots, with an easy 3' swell rolling in off the Pacific. It is said that the essence of romantic stories is danger and discomfort. If so, we lost a romance, but gained a day fit and ready to face the bluewater Pacific.
-tk
18 August 2003
Not such a dawn start this morning --- 9am. There was no reason for an early start because today, unlike the last two days, we were actually looking for wind. We motored out of Neah Bay, slipped just north of Tatoosh Island, and back into the fog. It was not nearly as thick as yesterday --- visibility was about 1 mile --- and there is no shipping traffic in this area.
It was a cool moment in both senses of the word when we turned Cape Flattery, and the GPS advanced to the next waypoint --- Cape Mendocino, 459 miles dead ahead.
Oddly, there was a southern wind, so we had to motor to about noon when, as predicted, the northern wind filled in nicely. We were sailing for the first time this trip, in lovely 20-25 knot winds from the northwest. The swell was from the west, making for a corkscrewing motion, but it wasn't terribly uncomfortable.
The biggest problem we had was keeping the genoa filled in the lee of the main. The whisker pole helped, but we haven't come up with a satisfactory solution yet. The lowest we can sail is about 150 degrees apparent. Sailing wing-on-wing brings on violent rolls in the 6' swell, so we will gybe our way to Mendocino. If we get the strong winds predicted for Wednesday (gale force according to my weatherfax), we may just sail under reduced genoa alone.
By 1pm, we had gone far enough from the coast (about 10 miles) that we sailed into sunshine, which stayed with us for the rest of the day. The winds continued to build throughout the day until they were 30+ in the late afternoon and into the evening, making for an exhilarating, if rolling ride, including some moments where we were surfing down the big Pacific rollers, doing 9+ knots.
Just before dark, we took down the main and at this time (midnight), we are sailing under a double reefed genoa alone, in 20 knots of wind, doing about 6 knots.
I tried talking to friend Robert this evening on the single sideband, but didn't hear anything. I also opted out of calling into the Pacific Seafarer's Net, as reception was so poor that it would have been an ordeal to listen in for the hour. I may join tomorrow night (Tuesday), or then again, I may not.
Robert: I will try again on Tuesday night!
Love you all!
-tk
19 August 2003
Friends and family!
We had a quiet night under a double reefed genoa alone, zipping along at 5 knots with a 20 knot breeze behind. Without the main, the boat rolled a bit, so it wasn't always easy to sleep what with stuff crashing around in the lockers (next time, I am going to carpet the place with those no-slip rubber placemats!), but at least it was easy to handle. Tom saw a couple of meteors, I obsessed with the fishing boats off Grays Harbor.
The water has been remarkably warm, about 65 degrees --- way higher than I ever remember in my oceanographic career off Newport. As a result, I wouldn't call it "balmy," but the night was much warmer than expected.
Beautiful sunrise with only a few clouds on the horizon. By 0845, we had completed our first 24 bluewater hours and done 164 miles.
By 11am we noticed a couple of white sails off our starboard quarter. It was NORTHERN LIGHTS, a Nordic 44 that we befriended in Neah Bay. They left about an hour and a half after us and seem to be matching us gybe for gybe. Pretty remarkable that we would run into each other with all the ocean out here. They are traveling sans radar and sans dodger. Must be a blind and cold boat!
About noon a big boarding sea roared over the starboard coaming, soaking Eric while he was standing at the helm. As I write this, he is in his T-shirt and tiger-striped boxer underwear, cooking lunch and trying to dry off. Very domestic.
Most of the day was spent under double reefed main and double reefed genoa, with a 25-30 knot wind. Waves were about 8-12 feet. Boat speed about 7 knots through the water, 8 over the ground.
Dinner was curried potatoes over rice --- stomachs must be doing well.
Right now we are 20 miles off the Oregon Coast, just south of Waldport, Oregon.
For you MONA gear freaks. I'm finding the rate flux compass that I bought just before leaving to be a very good investment. Its response time is so much faster than the regular fluxgate compass that it allows the autopilot to steer down the front of these big rollers without a hitch. Much less exhausting than hand steering. We haven't tried the Sailomat yet because we have been going nearly dead downwind, resulting in unpredictable apparent winds.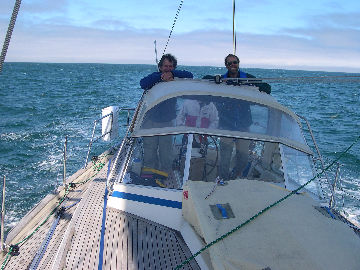 The Two Toms
Another good investment was the whisker pole. With the 20-30 degree rolls, it keeps the genoa filled, minimizing the amount of violent flogging and wear and tear on both the sails and our nerves.
As always, we love to hear from you [but if you do reply, don't include this text. Winlink is slow enough already]!
-tk
20 August 2003
Friends and Family!
The past 48 hours has probably been the most remarkable sailing I've ever done. Yesterday we did 176 miles, and today saw a 24 hour period where we did 184 miles (Ulf: is that a 24 hour Malö record?). Right now, the winds are 30-35 knots, with an occasional 40 knot gust. We are headed dead downwind under double reefed main and double reefed genoa, doing about 9-10 knots over the ground, with an occasional sprint in the 12s. We put the genoa out on a whisker pole on Monday and there it has remained for nearly 3 days!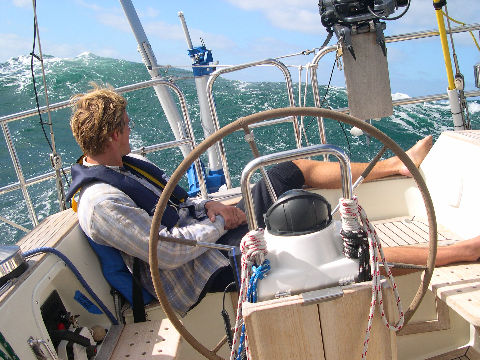 What the...???
Last night was much more blustery than the night before and, as a result, colder. Water surface temperature has slowly been dropping as we go south (hey, what's with THAT?), until now it stands at about 13C. But, the sun is still shining and everyone is in good spirits.
While Tom and I stood watch we had a brief visit by a pod of a half dozen porpoises that zipped over to check out the boat. They played and surfed in our wake and in the bow wave for a few minutes. At this time we were near the top of our boat speed, maybe 8.5 knots, but they just cruised on by, bound for more interesting things ahead.
Freighter traffic has been very light. Just as dusk was falling last night, we saw an enormous tug pulling an even more enormous derelict oil freighter, heading right at us. Their skipper called us up on the VHF and turned out to be a very professional and friendly guy. We were running wing-on-wing, so we didn't have much freedom of movement, so he obliged us by making a huge detour to the east, to get out of the way of our itty-bitty little sailboat.
The weather forecast shows contrary, southern winds for tomorrow in the Cape Mendocino area, so this may be the end of our long distance sprint. Still, we have made great progress and I'm happy with our position.
Thinking of you all!
-tk
21 August 2003
Friends and family!
What a change the last 24 hours has brought.
Yesterday afternoon was perfect sailing conditions: gale force winds in the 30 to 40 knot range out of the north, with 10-12 foot swells. The boat was under double reefed genoa and main, surfing comfortably down the front of the waves, consistently above 8 knots, occasionally much more, with the water cleanly flying off to each side of the bow. There were times carving our way down a roller where I felt I was back in my Laser dinghy, courting Lee, as we would surf it down the hydraulics in Woods Hole passage.
Unfortunately, all things come to an end and by 6pm, the wind had died down to 15 knots and begun to veer to the east, harbinger of the low predicted off Cape Mendocino. Actually, as much fun as the day had been, it was with some relief that the winds slacked off --- I wasn't looking forward to gale force conditions after dark.
Instead, by nightfall, the wind had completely swung around until it opposed us out of the SW, at a gentle 8 knots. Down came our faithful whisker pole, the genoa was rolled up, and the babbling idiot who lives below was fired up: we motored into the night and a thick fog. Visibility was about 100 meters, but the shipping traffic was very light. We had exchanges over the VHF with a couple of ships, more out of courtesy than any real danger of collision.
The morning dawned gray, gloomy, and damp. Quite a change from the sparkling sunshine we enjoyed for the last three days.
Despite motoring through the night into a headwind, daily mileage was still pretty decent: 160. The rest of the day was spent motorsailing into 10-15 knot winds, with a favorable current. The opposing wind/currents/swell made for some lumpy seas as we passed the escarpment off Cape Mendocino.
We were visited by a pair of exhausted Brewer's Blackbirds, looking for a place to land. They continually circled the boat, working up their nerve. As much as I can dislike these birds on land, out here, it was touching to see them totally disoriented and alone, but for each other. Despite our pulling for them, after about an hour they decided they preferred exhaustion to taking their chances on a pitching boat full of alien surfaces and people, ropes, and swinging sails, and disappeared.
Big day today: we all took showers, had tofu dogs w/sauerkraut for lunch.
-tk
22 August 2003
Friends and family!
Unfortunately, with the arrival of light southerly winds, we had to motor all day yesterday and today. In retrospect, when we first spotted this small low pressure cell in the 96 hour surface forecasts, we should have headed even farther offshore to leave the low to port. This would have given us favorable winds all the way down. It might also have sent us as far as 200 miles out. Not sure my insurance covers that.
Big highlight today was a visit to the Farallones. They were right on the way to Half Moon Bay, so we paid all three island groups a visit. Always paranoid, we approached them from the leeward side, which had the fortunate side benefit of allowing a circuit through Fisherman's Bay in the S. Farallones. Wow! What a smell! The centuries of guano made our eyes water and the seals, well, we won't go there.
We were too late for the breeding colonies, but there were still many cormorants around. We saw one flock of Pharalopes that must have numbered in the thousands, all bobbing around like little corks, scooping up whatever it is they find on the surface. Many breaching whales, including one that showed its flukes all of 100 meters from the boat. It's easy to see why this is a marine sanctuary and why the public isn't allowed to go ashore.
Unfortunately, all the seals meant a lot of flies, and a thousand or so hitchhiked their way on board during our pass through Fisherman's. Two hours later, there are still hundreds buzzing around the cockpit, cabin, and all over the deck, despite our best efforts to shoo them away.
Lunch of veggie burgers with broccoli and peppers.
This will be my last email for awhile. We are heading for Half Moon Bay, where we hope to spend the night at Pillar Point Marina.
-tk
24 August 2003
Friends and Family!
After over a week on the move, today was a rest day. Tom and I played tourist in Monterey, always a favorite of mine.
Yesterday we had a spirited sail down from Half Moon Bay. At first there wasn't much wind and we struggled to keep our 30,000 pound boat moving downwind in the 6-8 knot winds. The combination that seemed to work best was running the asymmetric spinnaker on one side of the headstay, and the genoa on the other. Unorthodox, but effective.
Asymmetric spinnaker to port, poled out genoa to starboard.
By late afternoon the standard afternoon northerly piped up. Ultimately, it blew about 25 knots and we ended up taking the spinnaker down and sailing with a single reef in main. We finished our 63 mile run in 10 hours. Pretty good considering that the first 3 hours were at 3 knots!
Sadly, Eric and Daniel left us last night. We greatly enjoyed their company as well as experience. With the two bona-fide Swedes off the boat, I should probably take down the Swedish flag that Eric brought with him. It always attracts attention from any Swedophile (?) that might be around and without them on board, we're just a couple of wanna-be's.
Monterey was enjoyable if touristy. What do you make of a shrimp palace called "Bubba Gump" and featuring a guy out front in a white suit that was the spitting image of Tom Hanks, talking Gump's unidentifiable drawl, lower lip jutting out, spouting Hollywood cum Gump homilies? Then again, we were playing tourists, so who are we to judge?
Actually, I thought the highlight was watching about 20 sea lions crowding on a small moored sailboat inside the breakwater, covering every square inch of it, including draped off the small bowsprit, with still more fighting to get on. The boat could not have displaced more than 2,000 pounds, yet it held at least 6,000 pounds of sea lion! It was so low on its waterline that I felt sure it would capsize. Can you imagine the owner's expression when he finally comes back to his boat "What the hell's been going on here???"
Tomorrow morning we leave early for either San Simeon or Morro Bay, depending on how far we get.
-tk
25 August 2003
Friends and Family!
You can never judge a day until it's over.
Tom and I got up at 4:30 am and left Monterey Bay by 5 am. We wanted an early start for the long run down to San Simeon, insuring that we would get there before dark. I didn't want to be anchoring in an unfamiliar spot without any light. The day started out beautiful enough --- a sliver of a moon with a disk of earth glow --- but eventually deteriorated into a solid fog bank with 50-100m visibility. The fog burned off by noon, but was replaced by battleship gray clouds that made it impossible to see the spectacular shoreline, only a couple of miles off. Plus, there was no wind. So, we glumly motored into the gloom.
But, then at 2:30, we stumbled across a pod of Blue Whales, perhaps a dozen in total. We throttled back and slowly motored through. We were so enjoying this that we decided to cut the engine and just drift. We ended up staying for an hour.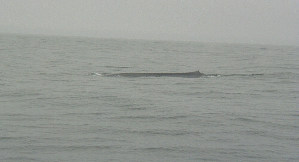 Blue whales about 20 miles off Big Sur
After 20 minutes or so it was obvious that the whales were equally interested in us. With the whole ocean to choose from the whales continuously surfaced very close to the boat, sometimes within 50 meters! You never knew exactly where they would surface and they seemed to have a knack for coming up behind you with an explosive blast of exhaled air. It would scare the bejesus out of you! Then they would slowly swim away from the boat to repeat the process. We probably witnessed at least 10 such close encounters. I'm not sure why these whales took such an interest in us, perhaps because this is such a remote section of the California coast with the nearest harbour 50 miles away, so encounters with boaters are relatively rare (we didn't see anyone the whole day).
At any rate, drifting in the calm sea, everything silent except for their blasts of exhaled air then the whistling of the inhaled fresh air through their blow hole, surrounded by these gentle giants, was a wonderful experience. It was only with great reluctance that we eventually restarted the engine and slowly motored away.
We eventually anchored at San Simeon, just about the only decent anchorage in these parts. Actually, compared to standards in the Northwest, it's just an open roadstead. On the other hand, the weather here tends to be mild in the summer, with chronic northern winds for which this anchorage is well protected.
So, we are drinking our evening cerveza, watching two sea otters foraging in the nearby kelp, waiting for the sun to go down, the day ending far better than we expected.
-tk
27 August 2003
Friends and Family!
Sorry this note is a day late, but the computer was temporarily indisposed. The screen started dancing around like a 1950s television set with a bad vertical adjustment. I turned it off, laid my hand on it, said "Heal!", and left it for the day. This morning it's fine.
We woke up yesterday to a surprise. A sea lion pup was in our cockpit. Tom was in the aft cabin with the portlight to the cockpit open and heard a snuffling sound. He thought it was me and turned to take a look. Staring back at him were two black eyes and the cutest face you could imagine. He called for me and as I came aft, the pup tried to enter the main cabin. He was obviously completely unafraid of humans and, in fact, quite friendly. I was concerned that if we let him in the cabin we would never get him back out and he'd become permanent crew. No amount of shooing was convincing him to go back up the companionway stairs. Finally, I used a dish cloth and, like a matador cajoling a bull, got him to go back into the cockpit.
We quickly put the splashboards in and got the camera. He was very friendly and curious and completely comfortable, even though at one point we had him cornered above the companionway next to the instrument panel. After about 10 minutes of this we decided it was time for him to go, lest his buddies join him. The dishtowel did the trick of persuading him to go over the transom, but it took a smack in the rear to get him to go into the water.
With that great start, we continued our journey south. We motored until about 1pm, but then put up the main and spinnaker.
We were making nice progress, but then trouble. Gybing the spinnaker is normally not a big deal, but this time the new sheet came untied and the spinnaker streamed out in front like a giant flag. I ran forward to snuff it, but in the meantime it had wrapped itself around the forestay. It took the next hour to unwrap it and get it down. It seemed that no matter what we tried, the beast found some new way of fouling. At one point, I felt like I was in the middle of a spider web with a giant fabric monster trying to smother me. By the time we wrestled it into submission, I was utterly exhausted.
We arrived in San Luis about 5pm. Friends Greg and Linda were going to take us out to dinner, but we were on a mooring buoy, with no way to get ashore. Tired as we were, I wasn't going to pass up a free dinner with close friends, so Tom and I pulled ourselves together and spent the next half hour assembling the dinghy for the half mile ride to shore. We had a great time in San Luis Obispo with Greg and Linda. We got back to the boat just before dark, spent another half hour taking the dinghy back apart and, oh yeah, dealing with the fabric monster that we had just dumped on my berth. I fell into bed at 10, beat.
-tk
27 August 2003
Friends and Family!
Today we went around Pt. Conception. On this leg, it's a long haul between anchorages or ports, so we started early (6am) to make sure we made it to Santa Barbara before night.
We started out motoring, but by noon had our sails up. Point Conception has quite a local reputation ("Cape Horn of the Pacific") but then, this is Southern California, home of hype and marketing hyperventilation. It's greatly overrated. Yes, it was windy, maybe 20-25 knots and there were some swells, maybe 4-6 feet, but it was no worse than any number of capes in the Northwest, not to mention Pt. Roberts or Qualicome. Still, we had a rollicking sail around the thing and into Santa Barbara channel, where the winds promptly died. So, we motored the rest of the way.
About 20 miles west of Santa Barbara, as we were passing by the many oil derricks in the area, we came across an enormous oil slick, perhaps 5 miles long. The air smelled, our eyes watered, our tempers boiled. We couldn't understand why one of the richest communities in America put up with this. Anyway, we got into Santa Barbara just as the sun was setting.
The irony seemed palatable that Santa Barbara is a "no discharge harbour," one that they enforce by putting dye in your tanks, so as to detect any leaks or a surreptitious pee dumped overboard in the night. We asked the harbormaster about the oil slick. He said "Oh, that's a natural phenomenon around Coal Oil Point. It used to be worse before they started drilling for oil."
We stared at him, he stared at us. Silence. Finally, as dryly as I could, I said "Well, thank goodness, then, for Union Oil."
Last day tomorrow! We are only 25 miles from Oxnard, our destination and where I hope to meet up with Chet. This should be a short day.
-tk
28 August 2003
Friends and Family!
We have arrived in Oxnard, our destination for this journey.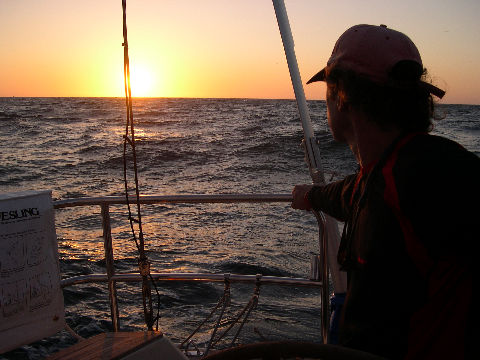 Today was an uneventful, short day. We motored from Santa Barbara to Oxnard, weaving our way through the oil wells. The best part was the arrival of Chet this evening, who will join me for a few days in the Channel Islands.
I thought I'd share some statistics from the trip.
Total trip length through the water from Neah Bay: 943.1 miles
Total trip length over the bottom from Neah Bay: 1046.6 (the California Current exists!)
Time motoring since Neah Bay: 76.5h
Time sailing since Neah Bay: 86.3h
Total time: 162.8h
Average speed through the water: 5.8kn
Average speed over bottom: 6.4kn
Until the next journey!
-tk
Our decision to stay about 20 to 50 miles off the coast was a good one. We were far enough out to get away from the local fishing fleets, crabpots, and the worst of the fog, but we were not so far out as to be unable to duck into a port. The winds were also stronger farther offshore.
Having said that, it is mostly wishful thinking that you can duck into a port along this part of the coast. The ports are few and far between, and none of them is very good. You would need at least 24 hour notice to have any chance of covering the distance to a port and getting across its inevitable bar before the storm closed it. With modern weather forecasts, that's a reasonable assumption, but hardly a sure thing.
The waters off Cape Mendocino can be rough because the Cape extends out to seaward as a western running ridge. When southward running swells, driven by the prevailing northerlies this time of year, meet this ridge, they steepen into some nasty chop. The way to avoid this is to either time your arrival for the middle of the night, or stay far enough offshore that you skirt the ridge. If you chose the latter strategy, the farther out you go, the smoother the ride, but the longer the distance! Our waypoint was 40° 21'N, 124° 50'W; outside the 300 fathom contour and about 20 miles off the coast.
Radar is absolutely essential for this trip. Fogs are the norm and they can be extremely thick. Even though we enjoyed lots of sunshine, there were still many hours where we were navigating solely with GPS and radar.
Your autopilot or self-steering windvane must be able to steer down the steep Pacific rollers accurately and reliably, or you will spend hours hand steering. We mostly used the electric autopilot in "compass mode," although it could get overwhelmed by the more powerful waves. It's possible that either the ram is undersized, or we did not spend enough time balancing the sails.
We were not able to get the Sailomat to work successfully in these conditions. Later, I traced the problem to the oar not being in a "neutral" position when the wind sensing vane was straight up. I think the Sailomat will eventually prove to be great at steering in these kinds of conditions due to its innate "yaw control," but that will have to await another time!
In either case, you can help the gizmos by keeping the sailplan well forward. The main should be reefed well before the genoa, keeping the boat pulling downwind and in a straight line.