Tuomotus
Third Night
21 May 2004
13 11'S 144 55'W
Hello, all!
Tonight, for the first time in a month, I put on a long-sleeved shirt. The Marquesas were so unbelievably hot and humid, that it is with some relief that we get into higher latitudes and (slightly) cooler climes. Water temperature has dropped to 29C --- the lowest we've seen it in 3 weeks. Mind you, it's still plenty hot! But, you realize in some subliminal way, that this is the hemisphere where it is winter now. The winds blow much cooler at night.
We are now in our third night of our passage from the Marquesas to the Tuomotus. It has been quite boisterous, with winds in consistently above 20 knots. Because we are on a beam reach, this makes for a fast, but very rolly, passage.
We've decided to bypass our original destination, Manihi, and head directly for Rangiroa, our original second destination and the largest of the Tuomotu atolls. The atolls typically have one or two narrow entrances through their fringing coral reefs. Because these entrances can be shallow, surrounded by coral, and have fast currents in them, it's important to run them during the daylight hours, preferably around noon when the coral heads show up best. We expect to make Rangiroa early on the 23rd, so we are trying to slow the boat down a bit so we arrive during the late morning hours. Unfortunately, CATS PAW's clean bottom, and enthusiasm for these kinds of winds, makes it tough to get her down to the 5kn range! Even with nothing but a double reefed main, we've still been doing 6kn+.
To add to the challenges, the display for our depth sounder decided to stop working. It's been acting up for some time now and since the big 19 April storm has been increasingly erratic. The culprit is probably salt water --- it has a way of getting into anything, even the most waterproof of gadgets. In fact, I don't think there is any such thing as "waterproof" in the marine environment --- only varying degrees of water resistance. I took it apart, cutting out the "waterproof" caulking, rinsed it with freshwater and alcohol and have let it dry overnight. Tomorrow I'll reinstall it and see if this helps. If not, we'll have to run back and forth from the nav station where there is an alternate display.
A pack of a dozen or so Spinner Dolphins showed up at dawn during Lee's watch and stayed with us on and off for about 3 hours. We caught them by surprise when we suddenly changed course to go to Rangiroa, but they quickly caught on and changed course too. Way cool!
-tk
At anchor, Rangiroa
24 May 2004
14 52.9'S 147 38.4'W
Hello, All!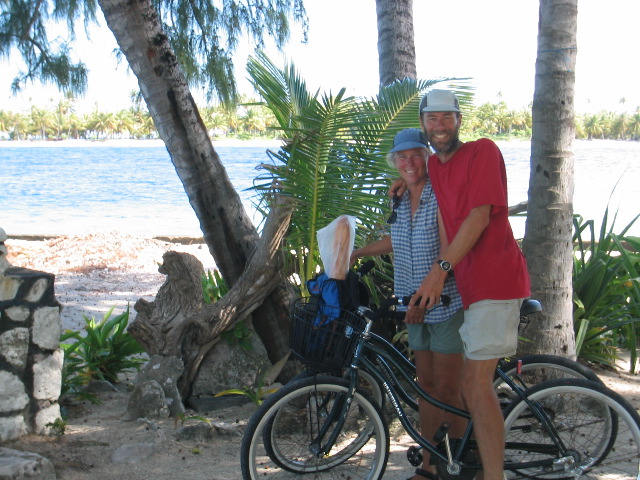 Lee and myself in Avatoru, Rangiroa, with bagette.
We have arrived safely at Rangiroa, here in the Tuomotus. It is the second largest atoll in the world, with a circumference of about 100 miles. Despite its length, there are only two passes into and out of the atoll. Fortunately, they are relatively easy passes. We chose Passe de Tiputa, the more easterly one, which was closer for us. The winds were blowing about 25 knots at the time and opposing the slight (2kn) outgoing current through the pass. This created some largish (6+ feet) hydraulic waves, but nothing that a sailor from the Northwest would not have seen before in our tidal rapids. We had no problems making it through.
The anchorage inside is spacious, and had about 18 boat in it.
The biggest shock came when we opened up the anchor locker and discovered that our anchor was no longer attached to the chain! It seems that the pin of the swivel had worked itself loose in the course of our long passages! We use a WABI "Powerball" swivel, because Malö's signature through-the-stem arrangement does not have a wide enough opening to allow a simple anchoring shackle. The setscrew that holds the Powerball pin in place had worked itself loose, despite being set in silicon caulk as per the instructions, allowing the anchor pin to unscrew itself and fall out! It was only by the greatest of fortunes that this happened while the anchor was in its locker, rather than on the bottom. We came close to a potential disaster, but fortunately luck prevailed. I climbed into the locker and put everything back together while Lee circled the boat, and we were able to anchor uneventfully.
Rangiroa is a very beautiful place. The waters are the most unbelievable blue of blues that you could imagine. While it is one of the biggest atolls in the world, its highest point is still only about 5 feet above sea level --- quite a contrast with the mountainous Marqueasas! It is also a bit cooler, only a couple of degrees, but just enough that the daytime temperatures are merely hot, instead of sweltering. We are able to go for a walk and function, instead of sitting under a tree close to passing out!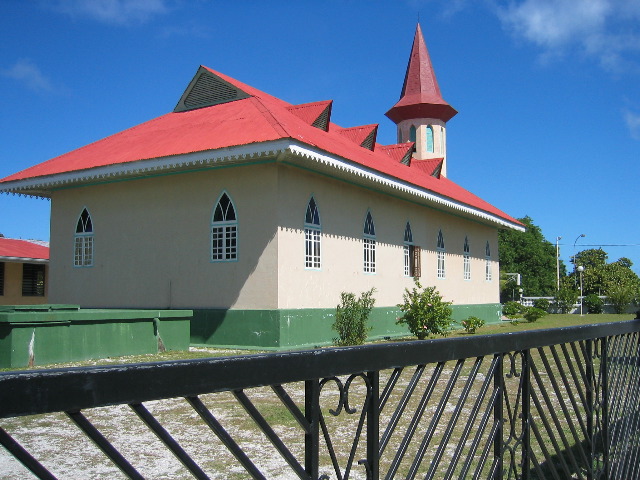 A church in Avatoru, Rangiroa.
We spent the morning walking and hitchhiking into the nearby town of Avatoru, where we went into fits of ecstasy while enjoying a pizza! Then we visited a pearl farm and, to top off an already great day, managed to buy six (6!) heads of lettuce for $5. What a deal! Salads tonight!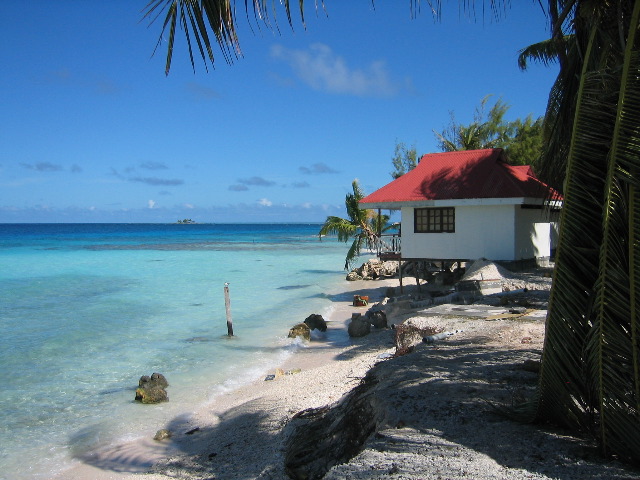 Beach scene in Rangiroa, Tuomotus.
The afternoon was spent snorkeling on a nearby motu.
We will spend a few days here, perhaps sailing over to the other side of the atoll, then see CJ off on Friday, to return to Bend.
-tk
Rangiroa, Day Three
25 May 2004
At anchor, Tiputa, Rangiroa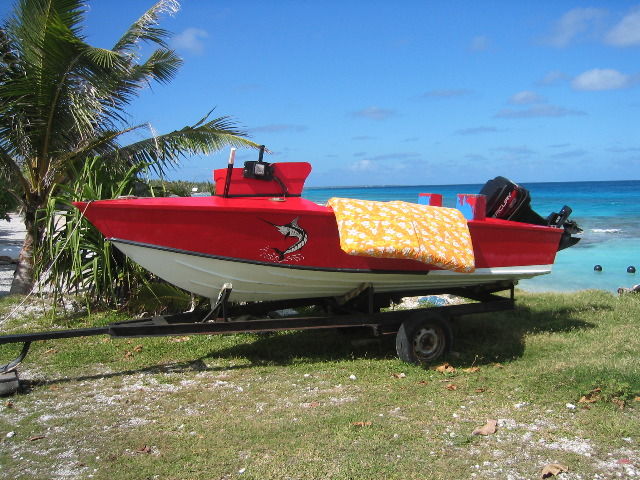 A speedboat in Rangiroa. Note the joystick control just forward of the "cockpit."
Last night was an exciting night around here. A bungalow at the very expensive and exclusive Hotel Kia Ora, located just next to our boat, caught on fire and spread to two other nearby bungalows. A fourth bungalow was saved only through the superhuman efforts of two employees, who armed with buckets and standing in the bungalow's jacuzzi, threw bucket after bucket of water up on the roof for nearly a half hour. It was nearly a full hour after the first bungalow caught on fire before the hotel managed to get a couple of gasoline powered pumps working. They came very close to losing the whole place, as their main building and restaurant, as well as the bungalows are all thatched with very flammable bamboo leaves. Fortunately, no one was hurt.
We spent the day today just puttering around.
I spent an hour in the morning going up the mast, just to look it over and inspect the fittings. Since our scare with the anchor, I've made a point of going over the boat stem to stern, checking every nut, bolt, and cotter pin to make sure they are all tight, secure, and not corroding. So far, I haven't found anything of concern.
We had lunch in Tiputa, the nearby town just across the pass. It's a lovely place, extremely quiet, with only a bit of traffic. It's the kind of place where a pretty girl with a flower behind her ear bicycles by, bagette in her front basket and a baby on a rear carrier, with a cheery "Bonjour!" In fact, nearly every local makes a point of greeting you, sometimes with great formality, including handshakes and queries about where you come from. We enjoyed it greatly.
-tk
On passage to Papeete
31 May 2004
16 39'S 148 03'W
Hello, all!
After spending a month with Charlie, Craig, and Chris, and then another month with Chris, now it's just Lee and myself. We're on our first multi-day passage together, just the two of us: Rangiroa to Tahiti, about 200nm and two nights.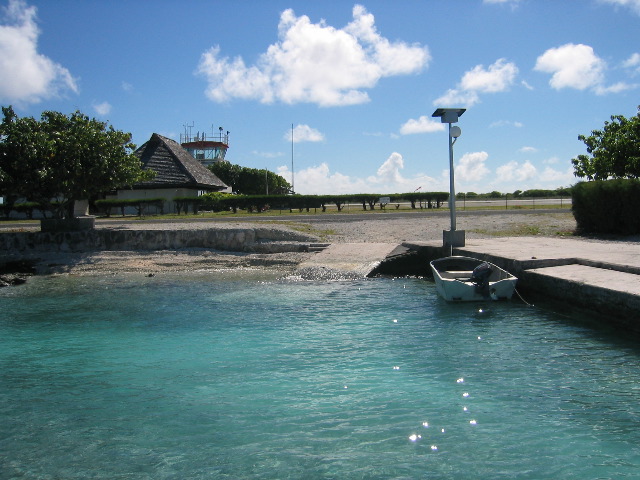 The boat basin at the Rangiroa airport. Park your boat and walk across the street to the terminal!
We left Chris off at the Rangiroa airport on Thursday. It was a very French Polynesian airport: it had just a tiny parking lot, but its own boat basin. We cruised up in our dinghy, tied it up to the seawall, and then walked 50 meters into the terminal. Cool!
We decided to leave for Tahiti on Sunday. There is only so much hanging around on beaches and snorkeling that one can do, or at least that I can do, and we wanted to do some long walks and see some bird and plant life. My sister Leslie and children are arriving in Papeete on 17 June, so we will have a couple of weeks to enjoy the island and get the boat ready before they arrive. There's a long list of things that broke or that we need, and only Papeete offers that opportunity.
We left the Rangiroa anchorage under sail, traveling about 6 miles to its western pass. Just for fun, we ran the pass and its hydraulics and currents under sail. We then sailed around the west side of the atoll, which was nice because the water was very flat, yet because the atoll is never more than about 2 meters high, there was no wind shadow.
Unfortunately, once we left the lee of the atoll and hit the full 20+ knot tradewinds, it's been rocking and rolling since. We expect to get into Papeete tomorrow morning at just about daybreak.
Some good news about our Sailomat self-steering windvane. It works, but tends to go zigzagging down the road with 20-30 course changes. I rarely tolerate it more than 30 minutes or so before "pushing the button" and re-engaging the electric autopilot. But, unfortunately, we cannot use the electric autopilot whenever transmitting on the single-sideband. The RF noise makes the autopilot go crazy, and it will head off in some random direction. This means someone has to hand steer. Last night, I was intending to send out some email, but I didn't want to wake Lee to ask her to steer the boat, so I decided to give the Sailomat another try. I had modified it as per some suggestions from Tom on the boat SOUND DECISION. He suggested getting the counterweight even lower on the vane shaft by turning it upside down. He also suggested giving the whole vane assembly a turn or two, thus biasing the oar to have a steady angle of attack, in order to counter any slight weather helm. The suggestions WORKED! The Sailomat has been steering the boat more or less continuously since --- about a 16 hour stint, while holding the course to within plus or minus five degrees of the wind. Awesome!
-tk