Equipment
Updated 12-Feb-2020.
What follows is some equipment highlights, as well as some comments about them. It's divided up into:
When I bought the boat in 2007, it came with a Northstar 951X chartplotter, which I promptly pulled out, sold, and replaced with a Raymarine C80 chartplotter. It also came with B&G Hydra 2000 instruments and autopilot system.
In the summer of 2020, I replaced the aging H2000 system (state of the art! In 1997!), with a B&G H5000 system. The present system includes:
B&G H5000 Hercules main processor
B&G H5000 Graphic displays, both above the companionway
B&G Triton-2 displays, one at nav station, one at the binnacle
B&G H5000 Analogue AWA display above companionway
B&G Zeus3 9" chart plotter
B&G Halo 20 PLUS dome radar
B&G H5000 3D motion sensor
B&G DT800 depth sensor with 20 degree tilt
B&G Precision-9 compass
B&G ZG100 GPS sensor
B&G H5000 Pilot processor
B&G Triton2 Pilot controller
B&G RF25N NMEA2000 rudder feedback
B&G T2 autopilot ("blue") ram (from the older H2000 system)
Vesper Marine Watchmate Vision, Class B AIS transponder
Standard Horizon HX350S Handheld VHF
The B&G autopilot works very well. The T2 ram is a little big for this size and weight boat, but it seems to have little trouble the few times I've had it in a largish following sea. The user interface is "OK" — not nearly as nice as the Robertson AP series with their very intuitive adjustment dial.
The old H2000 system had a "linear" rudder feedback unit that was mounted above, and parallel to, the ram. I had nothing but trouble with it. This time around, I went with the more traditional "rotary" style RF25N.
The Vesper Marine Vision AIS transponder has its own screen, so it can be used standalone. Even better, they use some smart algorithms to filter out non-dangerous craft and ease them into the background. The vessels you really have to worry about are a little larger and in a bold color, so you can tell at a glance what your options are. The downside is the touchscreen controls. They are not very sensitive and inaccurate. I find myself using the chartplotter if I want to get additional information, such as the vessel name or MMSI number.
The Ubiquiti Bullet WiFi antenna replaces a Bitstorm "Bad Boy" antenna, which broke twice in 5 years. Internally, they are the same hardware, but the OEM Ubiquiti antenna is a third the price, albeit a bit harder to configure.
(2) 6v AGM batteries in series
Balmar MC-612 Max Charge regulator
Link 2000R battery monitor
Xantrex Freedom Marine 10 inverter/charger
Comments:
The Link 2000R battery monitor includes an alternator regulator (the "R" part of the "2000R" nomenclature). Unfortunately, about a month after I bought the boat, the regulator just stopped working. It had a little corrosion, but nothing out of line. The way it's constructed, it's just a circuit board slid into an open metal box, without much protection. I suspect somebody sat on the navstation seat with wet foulies and salt water dripped down through the hinge and onto the regulator installed below. By contrast, the Balmar is potted in epoxy and much less likely to corrode. I've had good luck with them in the past.
Hopefully, the Freedom Marine inverter/charger will prove to be more reliable than the ProSine I had on Cats Paw. It's certainly a lot bulkier. It's just as noisy, but in a different way — more 60Hz buzz, less fan noise. (Note added 6/15/14. It has proven to be rock solid. Nearly 15 years old with absolutely no problems.) (Another note, added 12/27/2020. Still no problems!)
The boat came with a stock 60amp Hitachi alternator. In 2012, I replaced it with the ElectroMaax. They make a great kit that was easy to install. It includes a serpentine belt that was also easy to install. Highly recommended. The hardest part of the whole process was upgrading the wiring from 2 gauge to 2/0 to handle the extra current.
Comments
Mercury makes an inflatable? Yup! And it's pretty good. It seems to be ruggedly constructed, is reasonably light (80 lbs), and is easy (for an inflatable) to row. This is my first experience with an air floor.
I
love
the Honda 2HP. It is so light (27 lbs) that there is no need for a crane to put it on the dinghy. I just lift it with one hand and drop it onto the transom. The gas tank is integral, so there is no need to install a separate tank and hose, with its potential for leaks. It only puts out 2HP, but gets us around at maybe 5 knots with no trouble. The biggest downside is it is
loud
. They get that light weight by using air cooling. You can hear us coming from a mile away.
The combination weighs just over 100 lbs, so Lee and I can easily carry the dinghy up a beach without needing any dinghy wheels. By comparison, the Achilles and Yamaha combination I had on
Cats Paw
could easily plane at 15 knots, but the total weight with fuel tanks, wheels, etc., was about 220 lbs!
Primary anchor: Spade S100 Gal. Steel, 44 lbs.
Secondary anchor: Fortress FX-23
Primary rode: 150' of 5/16" Columbus McKinnon HT chain, spliced to 250' of Samson "Deep Six" 5/8" braided line.
Secondary rode: 25' of 5/16" HT chain, spliced to 200' of 3-strand 5/8" nylon line.
Shore Tie: 350' of Samson "Deep Six" 5/8" braided line
Comments
I'm trying to get by with much less chain this time — only 150 feet. Before buying it, I studied my logs of the last five plus years and found that 80% of the time I had less than 150 feet of chain out of the total 300 feet carried by Cats Paw. So, I figured why carry the extra 150 pounds 100% of the time for 20% of the anchorages? For the deeper anchorages, I've spliced some Samson "Deep Six" line to the chain. This is a new line, similar to Yale Cordage's "Brait", but I actually like it better. It's only six ply (instead of eight), so it's not quite as supple, but it doesn't lose diameter when under tension, so the anchor windlass can maintain a grip on it. To get the price down, I bought a 600' spool of it. The rest I'm using as a shore tie.
I have no fight in the anchor wars. I chose the Spade over the Rocna (or Manson) just because it does not have a rollbar, which would have fouled Velocity's little bowsprit.
The boat came with a Lewmar Ocean Series windlass, but it died after the anchor locker filled up with sea water during the 2016 Pacific Cup. That fall, I replaced it with the V2.
Sea Gull Water Filter
Isotherm 351 12V fridge
Hot water heater
Espar forced air diesel heater
Comments
The boat came with a SeaFrost fridge with a holding plate and two independent cooling circuits: an engine driven system, and an AC driven system. In October 2018, the engine-driven system failed, so I took the opportunity to have the fridge completely rebuild, increasing its insulation from maybe an inch or two to 5+ inches, and to replace the SeaFrost system with the much simpler Isotherm 351 system.
Yanmar 3JH2-2TE Diesel
Yanmar KM3A Transmission, 2.64:1 ratio
Racor Fuel Filter
Comments:
The Yanmar engine and transmission are great. Never miss a beat, always start up instantly, easy to bleed and service.
The boat came with a really lame Martec folding prop that barely worked in reverse. I liked the MaxProp on Cats Paw, so I put one on Velocity.
(6) Type II "horseshoe" style life jackets to keep the Coast Guard happy
Lifesling
Comments
I originally bought a Zodiac ISAF 6 person life raft, because it fits nicely in the purpose-built life raft locker on the J/42 fantail. No need to wrestle it out of the lazarette! Unfortunately, it failed an inspection in 2015 and was replaced under warranty by the even nicer Open Sea liferaft.
The MOB1 are clever devices that fit in the inflatable PFD. When the units inflate, they activate and broadcast an AIS signal, which can be picked up on the boat, helping guide you back to the man overboard.
The SOS Dan Buoy is an easy to deploy Man Overboard unit. Just throw it over the side. I used to have a Switlik MOM-8, which I liked a lot, but there was no place in the Portland area to get it serviced. So, I switched.
Nikon 7x50 Ocean Pro Binoculars w/compass
Vion Mini 2000 "hockey puck" style handheld compass
Comments:
The SpeedTech handheld depth sounder is a great little gadget. It looks similar to a flashlight. Point it down into the water, pull a trigger, and Presto! it reads out the water depth. Very handy in the dinghy for exploring water depths around an anchor site, or checking out depths in a tight channel.
I love the Nikon binoculars, but the central focusing screw corroded out after three years. I sent them in for repairs. [10/25/04. Nikon repaired them at no charge!] [7/12/11. I dropped them, breaking something inside. Nikon replaced them again at no charge! That's my fourth pair!]
The Vion compass is easily the best handheld compass I've ever used. Very stable and accurate even in the wildest of seas. The first one I had developed an air bubble in the damping fluid. West Marine replaced it free of charge.
Hall carbon-fiber mast
(2) Forespar carbon-fiber spinnaker poles
Forespar carbon-fiber telescoping whisker pole
Stainless-steel rod rigging
Sailtec backstay adjuster
Harken roller furler
(2) Lewmar #50 self-tailing primary winches
(2) Lewmar #44 self-tailing mainsheet winches (stb'd electric powered)
(2) Lewmar #44 self-tailing winches on cabin top (stb'd electric powered)
North 3Di mainsail
North #1 155% 3Di RAW 760 genoa
North #2 3Di jib
North #3 100% "Marathon 3DL" jib
North #4 Dacron jib
North 102 ft² storm jib
North G-0 on a furler
North S1.5 symmetrical light-air runner
North S2 0.75oz symmetrical spinnaker 1142 ft²
North S4 1.5oz heavy weather downwind symmetrical spinnaker
North S5 1.5oz heavy weather reaching symmetrical spinnaker
North A3 1.5oz reaching asymmetric spinnaker
Hood light air asymmetrical spinnaker w/Spectra luff rope and sock
Comments: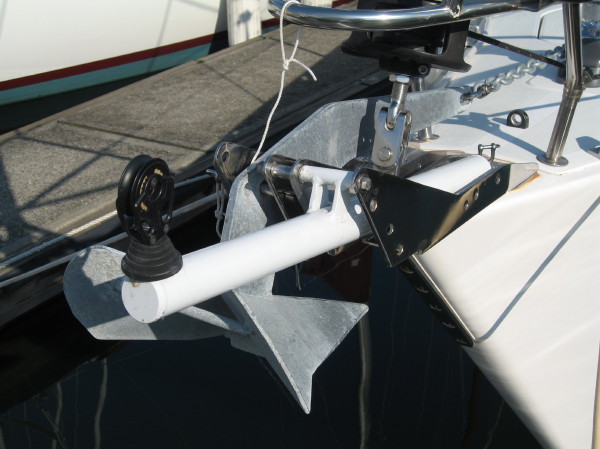 Front view of the bowsprit.
Through the years, Velocity has accumulated a pretty extensive set of sails. I doubt I'll be adding anymore. Indeed, some are getting old enough that I'll have to start all over again!
I purchased the S1.5 runner from my buddies who owned Tiki J, a J/42 sister boat. You can imagine my surprise the first time I hoisted the sail and saw a giant tiki head with glowing red eyes!
This is my first experience with electric sailing winches and I gotta say, I could get used to this. The powered mainsheet winch is unnecessary, but the powered halyard winch on the cabin top sure is nice!
The Garhauer snatch blocks work great! They are no longer the bargain they were a couple of years ago, but they are still much less expensive than comparable units from Harken, Lewmar, or others.
The light air asymmetric is flown from a really cool little bowsprit that is mounted on the port anchor roller.