Equipment
What follows is some equipment highlights, as well as some comments about them. It's divided up into:
The boat came equipped with a full complement of Simrad electronics. Generally, I've found the Simrad line to be reliable and the company responsive. Unfortunately, they are expensive and parts can be hard to come by in the US.
Robertson AP22 Autopilot
Simrad CP32 Chartplotter
Simrad Anritsu RA772UA Radar
Simrad IS11 Sailing Instruments
Simrad RS8300 VHF
Standard Horizon HX350S Handheld VHF
Standard Horizon HX260S Handheld VHF
Comments:
We've found the AP22 to be a very reliable and effective autopilot. It worked flawlessly on our 3000nm trip to Alaska, and our 6000nm trip to French Polynesia. A very useful option is a RFC35R rate flux compass, which reacts faster to changes in heading, allowing the autopilot to steer the boat down overtaking rollers accurately, without broaching.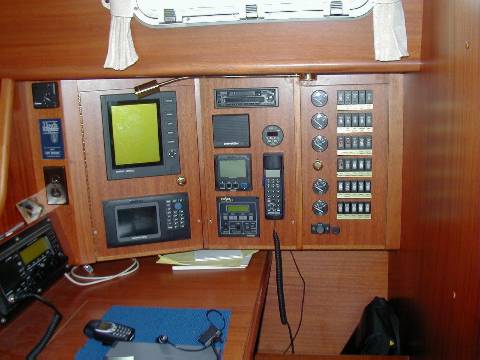 Cats Paw's navigation station. The SSB control head is at the extreme left. Left panel: The radar is at the upper left, the chartplotter just below it. Center panel: The stereo is at top, the speaker for the VHF below it and left, the Link 10 monitor below and right. Below the speaker is an NMEA repeater. To the right of that is a handset for the VHF. At the bottom is the control panel for the ProSine inverter/charger. Right panel: Malö's beautiful custom built breaker panel.
The CP32 is a bit of a mixed bag. While reliable, it can be very difficult to use (common navigating functions are scattered all over the menu; who would think to look for the anchor guard zone function under "Navigation Setup"??). It is also s-l-o-w (the newer CP33 solves this problem). It uses NT or NT+ chips from C-Map. I have found these to be of exquisite quality, completely reliable, and widely available, albeit expensive.
The radar, while not terribly powerful and awkward to use, has the virtue of being very low in power consumption, so I'm satisfied.
I like the Simrad RS8300 VHF. The telephone style handsets cut out background noise, and if you have two of them you can even use them as an intercom! When we first got the boat it didn't work very well. Indeed, the little handhelds routinely outperformed it! I traced the problem to the too-thin RG-58U coax cable --- by the time a signal made it through 100 feet of coax to the top of the mast, there wasn't much left! Replacing the coax with a big, heavy 1/2" RG-8U cable made a world of difference. We went from having the worst VHF in the fleet to having the best. The downside is now we hear every yahoo from Bellingham down to Tacoma. ;-) [Note added 10/2004. The RS8300 stopped working, apparently because its "memory is shot." I'll send it into Simrad for repairs.] [Note added 4/16/2005. Simrad repaired it for free. The problem seems to be RF getting into the unit. They now install RF chokes on the handset cabling.]
All of these Simrad units are networked together using NMEA. This allows such niceties as having the autopilot head to a waypoint, or being able to see the bearing and distance to the next waypoint up in the cockpit, without mounting the chartplotter there. While this was "state of the art" in 1998, things have certainly moved on since then. Still, I like the simplicity and robustness of the Simrad solution.
See the special SSB section for comments on the Icom 710 and SCS modem.
I have not had great luck with the little Standard Horizon handhelds. The push-to-talk switch went out on the HX350 after one year, and the internals of the HX260 corroded out after three (it had never been dropped in the water or even left out in the cockpit!). SH repaired the HX350 at no cost. but said the HX260 was out-of-warranty. They did offer me $25 off my next SH purchase. Fat chance.
(6) Trojan T-105 6v batteries
Balmar 90-100 Alternator
Balmar ARS IV Regulator
(2) Alpenglow Reading Lights
Alpenglow Overhead Light with dual power and night vision
Deep Creek FirstStar Mk II LED Anchor Light
Deep Creek TriStar Mk II LED Tricolor Light
Guest 2450P 50 amp Galvanic Isolator
Comments:
The Trojan 6v batteries, when put in parallel with the bowthruster batteries, gives 845Ah of capacity. See the special battery project section.
The Balmar alternator and regulator have so far been flawless.
Shea Weston of Offshore Outfitters, installed the Fischer-Panda in March 2004. The Pandas are expensive, but very compact, very quiet, and put out a healthy 250+ amps. They have a checkered reputation on the web, but I bought it on Todd Rickart's (Sound Rigging) recommendation, someone whose opinion I greatly respect. Besides, with something of this complexity, you're buying the distributor and installer, not the company, and in this respect, we're in good hands.
The Link 10 battery monitor is one of those simple (but, unfortunately, expensive) tools that makes you wonder how you did without it. It makes monitoring the state of battery charge a snap.
I like the functionality and ease of use of the Prosine inverter/charger, but during the winter of 2002-3 it started faulting regularly. It got so bad the boat couldn't be trusted for more than a week or so without checking to see if the batteries were still being charged. To their credit, Xantrex (the manufacturer) owned up to the problem and gave me a brand new unit. Now I'm a happy customer again.[Note added 8/2006: Not so fast. The ProSine started faulting again --- exact same problem. This time when I called they told me I was on my own. Two bad inverters in 4 years with the same problem? Perhaps there is a problem here?? I'm not so happy a customer now.]
The Alpenglow lights are wonderful. They use about 7-9 watts of power, yet put out far more light than the 15w lights that came with the boat. They also look sharp. Unfortunately, they are also expensive. Same comments apply to the Deep Creek LED lights, except that they are even more expensive. Still, if you look at it that the alternative is to find an additional on-board power source, conservation is nearly always cheaper.
Comments
The Achilles is the bare minimum in size. At 9 feet we have no problem fitting into it, but it can easily get overwhelmed by steep chop while on a plane. Still, it has one big advantage: it fits behind the mast, which is the reason we chose it. It's out of the way, never snags a line, and adds a minimum of windage. We also like its Hypalon fabric in the sun. It doesn't get sticky and seems to last.
The Yamaha works great. It starts easily, is quiet, gets very good fuel economy and you don't have a plume of blue smoke following you around. It is powerful enough to put the Achilles in a plane with two people in it, three if one of them is a kid. Three adults? Forget it.
Anchor - primary Bruce 30kg
Anchor - secondary Delta 35lb
Anchor - kedging Fortress
300 feet of 5/16" ACCO high-tensile chain
Various lengths of 3/4" three stand nylon rode with chain leaders
The Bruce is our primary anchor and is shipped through the stem of the boat, in Malö's signature arrangement. Weighing at least 20 pounds over the recommendation for a boat of our size, it has always held. True, we had to drag it around Blue Mouse Cove in Glacier Bay a bit to find something to snag it on, but it didn't let us down!
Like all things Italian, the Lofrans windlass is gorgeous. Also seems to work well!
Deckwash pump: JABSCO Par-Max 4; 30700-0092
Electric bilge pump: JABSCO 37202-2012 (2.8gpm)
Shower gray water pump: JABSCO 37202-2012 (2.8gpm)
Engine-driven bilge pump: JABSCO 51080-9013 (26gpm)
Freshwater pump: Shurflo Aquaking Junior 2095.224.212 7lpm
Whale Galley Gusher Mark 3, Foot Operated Pump
JABSCO Amazon Manual Bilge Pump
Xintex Propane Solenoid
Xintex Propane Detector
Isotherm Refrigerator
Isotherm Hot Water Heater
Ardic Hot Water Heating System
I added the foot operated Whale Galley Pump to save water and in case of electrical failure. About 6 months after installing it, it stopped working on the upstroke (it's a bidirectional pump). About two days after that, it coughed up a black rubber valve through the spout! The replacement has since worked uneventfully. No saltwater pump.
The Xintex propane detector puts out countless false positives. It's almost, but not quite, the boy who cried wolf. When I hear it, I still look around just to be sure, but I don't know how much longer we're going to put up with it.
The Isotherm refrigerator is remarkably efficient, drawing just 3 amps. I don't know how well it's going to hold up in a tropical environment as our refrigerator compartment is not terribly well insulated. Hey, it's a Scandinavian boat! [Note added 10/2004. Not unexpectedly, the fridge was overwhelmed in the tropics. It managed to get temperatures inside the fridge down into the high 40s and low 50s, but the compressor was running 100% of the time.]

The Ardic heater (click to enlarge)
The Ardic heater works well, but is probably a bit undersized. Going full blast, it barely keeps the boat warm enough when the outside temperature is 40°F. It works by heating hot water either using a diesel powered boiler or, if it is on, the engine. The hot water is circulated through the boat to two heat exchangers where air is blown over it, heating the air. The unit can be noisy and uses a fair amount of electricity (about 5 amps when running), but the heat is uniform and it doesn't take up much space.
See the special page on the Jabsco engine-driven bilge pump.
Yanmar 4JH2-UT(B)E Diesel
Yanmar KM4A Transmission, 2.63:1 ratio
Racor 220R2 Fuel Filter (takes R24S element)
Racor 230R2 Fuel Filter (takes R20S element)
Comments:
The boat came with the bowthruster.

Bowthruster (click to enlarge)
There is no way I would specify one. I use it so rarely that on the annual haulout the prop aperture is usually occluded with mussels and barnacles! The thruster weighs a lot, requires an extra battery, some heavy duty solenoids and wiring and, worst of all, sits in the middle of the sail locker under the forward berth, taking up space and generally making it a pain to get sails in and out. I used it once to get into a very tight berth in an overcrowded marina in Powell River, BC, and the wharfinger was so disgusted he threw up his hands, let go of the dock line, and said "Well, what do you need
me
for??"
The Yanmar engine and transmission are great. Never miss a beat, always start up instantly, easy to bleed and service.
By the way, it is typical of Malö to overspecify both the engine and the bowthruster. A 100HP engine on a 42' sailboat?? Despite Cats Paw's 30,000 pounds, she practically leaps out of the water when I goose the engine with the rudder hard over.
The Maxprop was installed March 2004 and, I believe, is largely responsible for Cats Paw's newfound light-air prowess. Before, sailing stopped being fun below about 10 knots of wind; now it's somewhere around 6.
The Racor fuel filters are of two different types because in the interim between when I bought the first and when I bought the second, Racor changed the model slightly. See the special fuel filter section for installation details.
Winslow M-60SLO-BO-1-100 Liferaft
(6) SOSPENDERS 38MHAR/P Personal Floation Devices
ACR Satellite2 406 MHz EPIRB
Lifesling
PUR Survivor 06 Watermaker
I bought the Winslow 6 man liferaft because it was top rated by Practical Sailor. I specified optional 3 tube arch, insulated floor, and extra pockets. Since I bought it, Winslow's product line has exploded into a bewildering array of combinations, so I'm not sure what it would translate into nowadays. Something like their Offshore Plus, I guess. Winslow recently certified a service center in Tacoma, making it easy to get it serviced in the Northwest.
SpeedTech SM-5 Handheld Depth Sounder
Nikon 7x50 Ocean Pro Binoculars w/compass
Tamaya Jupiter Sextant
Comments:
The SpeedTech handheld depth sounder is a great little gadget. It looks similar to a flashlight. Point it down into the water, pull a trigger, and Presto! it reads out the water depth. Very handy in the dinghy for exploring water depths around an anchor site, or checking out depths in a tight channel.
I love the Nikon binoculars, but the central focusing screw corroded out after three years. I sent them in for repairs. [10/25/04. Nikon repaired them at no charge!]
Whitlock Cobra Rack-and-Pinion Steering
Sailomat 601 X-6 Self-steering Windvane
(2) Lewmar Ocean 60 Flange Base Hatches
(2) Lewmar Ocean 30 Flange Base Hatches
(7) Lewmar Atlantic 60 Portlights
(4) Lewmar Atlantic 30 Portlights
St. Croix Crane (for hoisting outboard)
For comments on the Sailomat, see the special section on its installation.
My biggest complaint with the Lewmar gear is the confiscatory prices for their accessories. A modest flyscreen for the portlights is $75. Each!
Seldén Furlex 300S Roller Furler
Seldén Mast with Single line Reefing System
(2) Andersen 58 ST Self-tailing Winches
(3) Andersen 40 ST Self-tailing Winches
Syverson Mainsail
Syverson 140% Genoa
Port Townsend Sail Asymmetrical Spinnaker
Port Townsend Sail 125% Genoa
Port Townsend Sail Storm Staysail
Port Townsend Sail Storm Trysail
Comments:
The Seldén made Furlex roller furler never misses a beat.
The single-line reefing system works well most of the time. But, then there is the rest of the time. Unfortunately, it seems to have a habit of snagging a line at the most inopportune times, particularly when reefing while going downwind. If you're willing to head up before reefing, it works much more reliably. See also Lessons Learned from our Polynesia trip.
Andersen winches look great, work great, and never screw up.
The Garhauer snatch blocks work great! They are no longer the bargain they were a couple of years ago, but they are still much less expensive than comparable units from Harken, Lewmar, or others.
While expensive, the attention to detail is what makes sails from Carol Hassey's Port Townsend Sail consistently amongst the highest rated in the SSCA's surveys. We are very happy with the spinnaker and genoa we bought from them; we've never tried (and, hopefully, never will) the storm staysail and trysail.

Chafe on the spinnaker downhaul (click to enlarge)
The ATN Spinnaker Sleeve is used to tame the big asymmetric spinnaker. It works extremely well.
The spinnaker is flown free, but I have not come up with a good arrangement for how to hold down its tack. Right now, I attach it to the spare anchor roller, but this results in chafe on the bow pulpit. I would like to use a small bowsprit to hold the sail clear of the pulpit, but this would involve a lot of fiddling and welding. I may just use an ATN Tacker. [Note added 10/2004. I've tried the Tacker and it works very well! It has completely eliminated the chafing problem, as well as let us sail a bit closer to the wind with the spinnaker because of improved luff tension. I was a bit concerned that it might chafe the sun cover of the rolled-up genoa, but so far that has not been a problem.]