S/V Velocity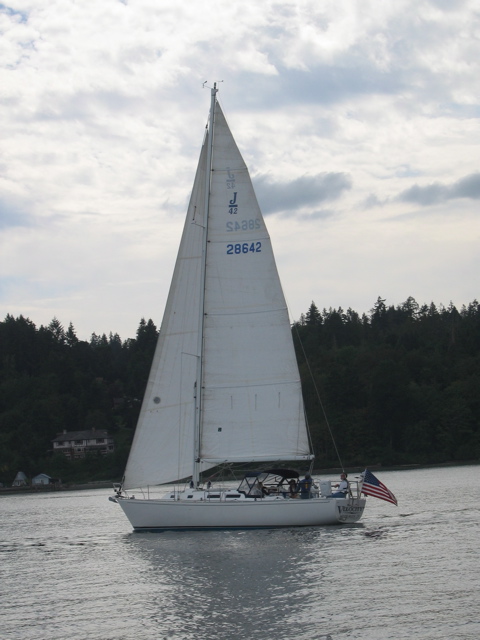 Velocity at Cowichan Bay, Canada. Photo by Ian Marsh.
After I sold Cats Paw in the spring of 2006, I lasted a little more than a year before buying another boat. Most of that time was figuring out what I wanted. I finally decided that I wanted to continue cruising, particularly in the Pacific Northwest, but I was tired of motoring. I thought I'd try a more of a "performance oriented" cruising boat. As I didn't see myself doing long ocean crossings nor spending months on end on board like we did on Cats Paw, I was willing to give up some measure of comfort and storage in order to get a better light-air boat.
After looking at a few dozen boats, I finally settled on a J/42 from J Boats. While there are less expensive boats, I felt that their strong dealer support and legions of fans would make resell much easier, so in the long run I didn't think they were that much more expensive. They are also extremely well made, with top quality materials and equipment.
I found a 2000 J/42 in the Bay Area, California named Velocity, which was attractively priced and in great shape. There was only 315 hours on the engine! I bought her, decided to keep the name, then had her trucked up to Seattle so I could enjoy the rest of the summer cruising the Puget Sound area. At the end of September, Paul Sokol and Robert Henry helped me bring her south to Portland.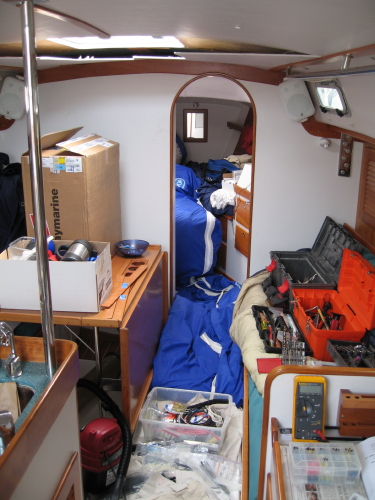 The interior chaos in Velocity during the commissioning process in Seattle.
It's interesting to compare Cats Paw with Velocity. While they are both 42 foot long "cruising boats," they have taken radically different approaches. Cats Paw was a showcase. Any project required at least a 50% overhead to maintain her "museum" quality. A simple project requiring the removal of the headliner took at least two days of drilling out bungs then revarnishing. In exchange, the boat had a vault like solidness and was very quiet. She was also heavy and relatively slow in light air. It took at least 8 knots to sail, about 10-12 before it was "fun." She had lots of interior volume and lots of storage.
By contrast, I can have the headliner off of Velocity in ten minutes. She has a relatively spartan interior (although only by contrast) and very simple systems. Everything is specified for the US market so parts are easy to come by. She's much noisier, but sails easily in 6 knots of breeze. In 10 knots she's nearly up to hull speed at anything except dead downwind. Yet, her carbon fiber rig and heavy keel makes her very stiff. In short, she's a joy to sail. Total interior volume is much smaller and storage space is more limited. I don't see myself sailing off to the Marquesas in her, but I think I'm going to enjoy sailing this boat!
What's inside
The Cruising Yacht SiteRing
Previous | List | Random | Join | Next