Trips and Logs of S/V Cats Paw
2001
The year 2001 was spent mostly on shakedown cruises in the Puget Sound, the Canadian Gulf Islands, and as far north as Desolation Sound, BC.
2002
In 2002 we took the boat up to Alaska. Here are some highlights and lessons learned.
2003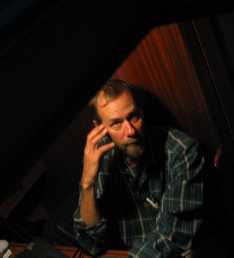 tk at the charts during the 2003 Swiftsure Race.
In early summer 2003, Lee and I took the boat up through the Canadian Gulf Islands and Desolation Sound, just puttering around at a relaxed pace.
In August 2003, I, along with three friends, took the boat south from Bellingham, Washington to Channel Island Harbor, California. We called the voyage "South until the moss stops growing."
South Pacific 2004
In early April 2004 Cats Paw left San Diego, bound for French Polynesia. Here are the logs that I sent out over HF radio.
Here's the track from San Diego to Hiva Oa, using Google Maps.
Queen Charlottes 2005
During the summer of 2005, my buddy Chris Janowski and I took Cats Paw up to the Queen Charlotte Islands. We called this trip Voyage of the Jellyfish Band.